Barn Wood Canada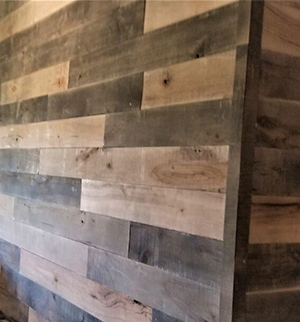 For over 18 years Liquid Diamond Products Ltd. has provided its clients all over Canada with high end building materials for exceptional prices.
We would like to introduce our newest product line. Barn Wood Canada.
Decorative and durable wall and ceiling wood paneling made with 100% real Canadian maple hard wood.
Create a beautiful accent wall or fill an entire room with warmth in any home or commercial office, or restaurant.
We offer board lengths at 5 1/4" wide x 5/8" thick x 48" long.
For Materials Only:
Price range includes $6.50 sq/ft - $7.50 sq/ft.
Professional Installation Services:
We offer professional installation services for around $1.75 sq/ft - $2.50 sq/ft. (Minimum quantities apply for installation - please contact us for further information and estimtion details - varies by project size and schedule for delivery).
Our Product:
Premium high quality Canadian maple
Kiln dried and heat treated
Pre-cut for fast and easy installation
All our wood has been with our own blend of non-toxic protective coating to ensure it is UV, moisture, mold, mildew, and water resistant
We offer free expert advice from choosing a collection style to calculating the exact quantity you need for your project
Photo Gallery
Click on any of the images below to view full-size version of thumbnail.